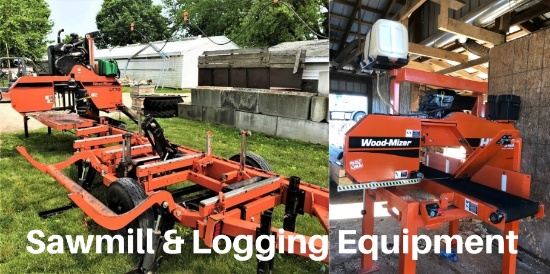 Sawmill and Equipment catalog
Friday, February 14, 2020 | 10:00 AM Eastern
Auction closed.
Sawmill and Equipment catalog
Friday, February 14, 2020 | 10:00 AM Eastern
Description
THIS CATALOG WILL BE BUILT IN THE WEEK LEADING UP TO THE AUCTION WILL INCLUDE...Sawmills: Like New HMC, MM10 automatic sawmill w/3HB, AC44 w/run around, set works and controls; New AG Tru-cut 6" band head-rig; Brewco fastline super scragg, 2010 Woodmizer LT70 portable bandmill, fully hyd; HD 36" Lumber Tiger Band-mill, Model 40hp71596,; Woodmizer LT30 portable band-mill, • Carriages; Cleereman 36" carriage, track, frame & drive; Pierce carriage w/3HB, track, frame, drive, husk and log turner; Frick carriage, hand set, air operated, track & frame; • Chippers/Hogs; Morbark Chip-Pac, 48" w/elec. motor, 3 knife; Precision Husky 58" chipper w/shaker; Montgomery hog, 45 PMKC, top feed; Williams 32" hammer hog w/3" screen, West Salem 32" Hammer hog, Shaving Mill; Tremzac shaving mill, TZ248, • Edgers; Baker portable edger, Corley edger, Meadows 2-blade edger, Edminton 3-blade edger; • Resaws; 2019 Woodmizer HR120 resaw, West Plains resaw WPRS-WBS; Woodmizer single head resaw, Baker single head resaw, BPQ-0; Fast Line grade resaw, • Trim & Chop Saws; New County Line Equipment 7 x 9...
Show more
Show Less